News in 2019

FIG at Intergeo 2019
17-19 September 2019, Stuttgart, Germany
Intergeo surpasses all expectations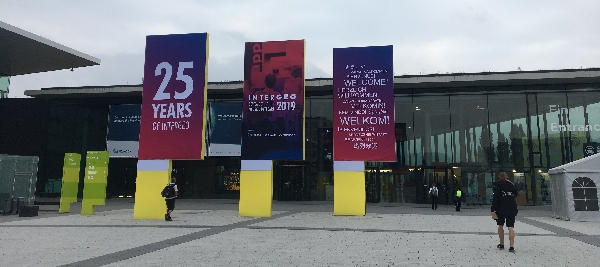 25 years of Intergeo. This mile stone was marked and celebrated during the three Intergeo days. The opening took place in the city centre of Stuttgart - at the Neues Schloss Stuttgart and was a festive beginning of the busy Intergeo-days. FIG was represented by FIG President Rudolf Staiger and FIG Office.
FIG Council held a council meeting in Stuttgart prior to Intergeo which made it possible for some of the council members to stay and experience this large event. It was a nice opportunity to visit the exhibition and conference, meet with others and get an impression of this major event.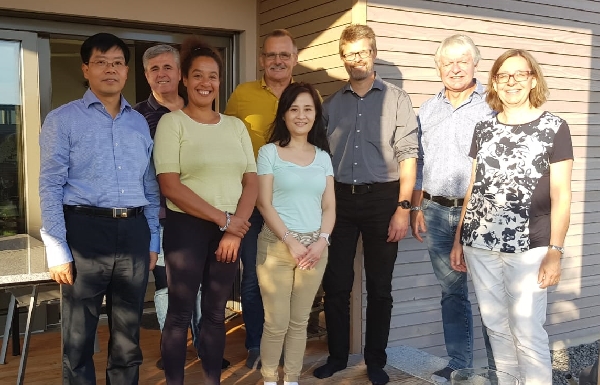 FIG Council in Stuttgart. From left: Jixian Zhang, Orhan Ercan, Diane Dumashie, Rudolf Staiger, Winnie Shiu, Mikael Lilje, Tom Kennie (FIG Honorary Member) and Louise Friis-Hansen.
This year, Intergeo opened its doors for 20,000 visitors from over 100 countries which is a record number of participants and 705 exhibitors presented their solutions for Geodesy, Geo-IT, Geoinformatics, Building Information Modeling (BIM), Drones and Smart City .
FIG also noticed the large attendance. The FIG stand was busy throughout the three day. It was a pleasure to meet and talk with potential future exhibitors, presenters and participants for the FIG Working Weeks and Congress and with others who found their way through the three large exhibition halls to lean more about FIG and FIG activities.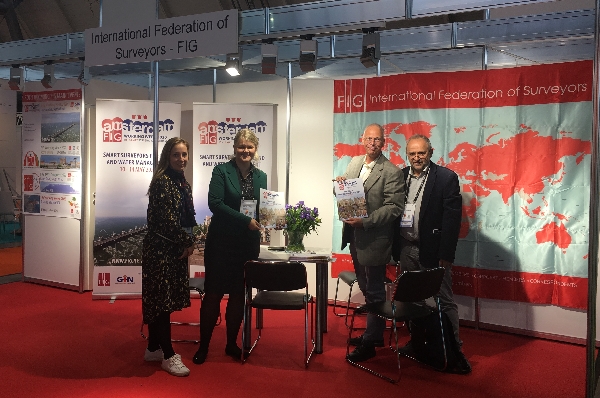 The FIG stand
Apart from FIG President Rudolf Staiger and other FIG Vice Presidents the FIG stand was manned by the two following Working Weeks - Working Week 2020 in Amsterdam, the Netherlands and 2021 in Accra, Ghana. The Dutch wooden-shoe-keyring and Ghanaian chokolate helped attracting visitors to stop by the stand for a shorter or longer talk.
The youngest FIG Corporate Member - category A-gold - SuperMap was also exhibiting at Intergeo, and FIG President Rudolf Staiger had the chance to meet with Will Zhao, General Manager of European and African Regions, Wang Haitao, VP Oversea Business and FIG representative Zhang Yuanyuan (Emma) and hand over their FIG membership certificate.
FIG and the local organisers for the future conferences had also meetings with other corporate members of FIG and others.
This year was characterized by many drones and other flying objects, and they seem to become smaller and more efficient from year to year. They were both demonstrated outside and in the large halls.
FIG Young Surveyors held an inspiring presentation at the "Campus Geoinnovation" "The Power of FIG Young Surveyors, presented by Chair of FIG Young Surveyors Melissa Harrington and Ferah Pirlanta Köksal, FIG European Young Surveyors. Hereafter CLGE presented the winners of their CLGE Students Contest.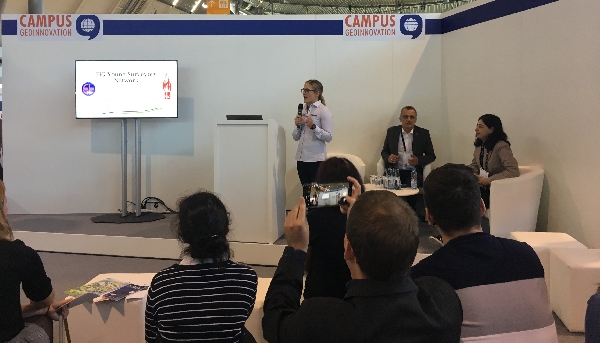 At the closeing of Intergeo FIG Director Louise Friis-Hansen handed over the FIG world flag to Co-conference Director Paula Dijkstra from the Netherlands.

Thanks to all who came by the FIG stand for a talk and thanks to those who helped out at the stand especially the local organisers for the Working Week 2020 in Amsterdam, and Working Week 2021, Accra Ghana.
Louise Friis-Hansen
1 October 2019